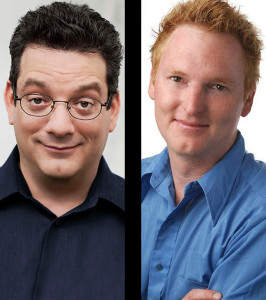 Andy Kindler (@andykindler) and Bobby Tisdale (@bobbytisdale) in a bonus PREMIUM episode LIVE in San Francisco @sfsketchfest at the San Francisco Punchline. Breakfast foods and coffee are discussed AT LENGTH. Oh, it's great.

The track playing here is the, normally, free bonus track of Andy and I discussing the show. And, as always here is a clip of the show: https://youtu.be/yJNIkigcz8c
So it's $2 for the whole thing on https://thedorkforest.bandcamp.com/  
WELCOME to year TEN of TDF
I have an hour comedy special out and you can download it here: bit.ly/horcruxdownload or get the DVD on my site. It's called "This Will Make An Excellent Horcrux" because comedy is all about soul 😉 … Own it today and forever. You can also get a dork forest tshirt or any of my CDs or DVD at www.jackiekashian.com 
You can support the show in other ways, talk us up! Get a shirt or CD/DVD at www.jackiekashian.com or www.dorkforest.com 
USE THE AMAZON banner when you order your own dorky goodness.
Audio leveling by Patrick Brady
Music is by Mike Ruekberg
Website design by Vilmos: hiredguncoding.com

Listen to the Latest Episode of The Dork Forest