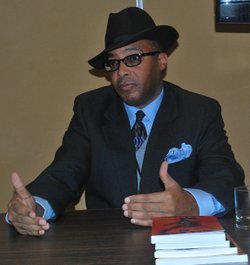 This is a PREMIUM EP.. recorded live. The track here is, what is normally, the free bonus track of Andy and I discussing the show. So give me $2 for the whole thing on https://thedorkforest.bandcamp.com/.  Here is a clip of the show: Clips Playlist
Steamfunk! Live at Convolution 2015 Balogun Ojetade (@Baba_Balogun ) is writer, filmmaker and martial artist and he I will be getting Moses: The Chronicles of Harriet Tubman. There is no reason for us all not to GET OUT THERE. This is a great ep!! Do EET!
NOTES:
http://www.roaringlionsproductions.com/
http://chroniclesofharriet.com/
Milton Davis
LA Banks
Octavia Butler
Charles Saunders
Premium Episodes are here (along with some stories) https://thedorkforest.bandcamp.com/ if you want.
Credits:
Audio leveling by Patrick Brady
Music is by Mike Ruekberg
Website design by Vilmos: Really good Web designs. http://hiredguncoding.com
I talk to Andy about the show and you find out where to get the whole episode

Download episode